As the urgency of climate change and human impact on the planet grows, so does its relevancy and presence in social media. The average citizen must focus on a shift in lifestyle and many wish to prompt small changes to combat this pressing issue, but the feelings of guilt, fear, convenience, and lack of information can bring progress to a halt. 
How can we decrease the negative emotions associated with the personal process of leading a more sustainable life? 
There are many aspects of sustainability we wish to tackle, but we decided to start with
meat consumption
due to its large impact on the environment in aspects of water usage, pollution, and land usage. 
We used a survey to define our target user group and their perceived pain points of sustainable living, meat consumption, and the role of social media in all these aspects. 
68% said that they have considered or tried going vegetarian/vegan 
When asked what keeps them from removing meat from their diet 
66% said "taste, culinary, enjoyment"
48% said "lack of time, convenience" 
27% said "potential health risks" 
89% see climate change and sustainability as a personal concern/responsibility 
When seeing a post concerning environmental issues, zero waste, human impact, etc
We conducted a competitive analysis, comparing different habit tracking, sustainability related apps. 
- Many habit tracking apps are very user action and pressure heavy  
- There is a lack of apps to help with cutting out meat or live more sustainably
- Current tracking apps have too many moving parts → simple design but complicated information architecture 
- A feedback system of notifications and statements of encouragement are important to keep up motivation and goal oriented attitude
- Reminders are the nudge 
- Simple design is favored, we don't want to push the user away with complexity 
- Allowing users to make their own account and have certain customizable options make the app feel more  personal and promote individuality (this is the user's unique journey)
- Having an overarching overview of progress: calendar, data, graphs,  (what exactly are your choices changing/impacting and specifically how are they?)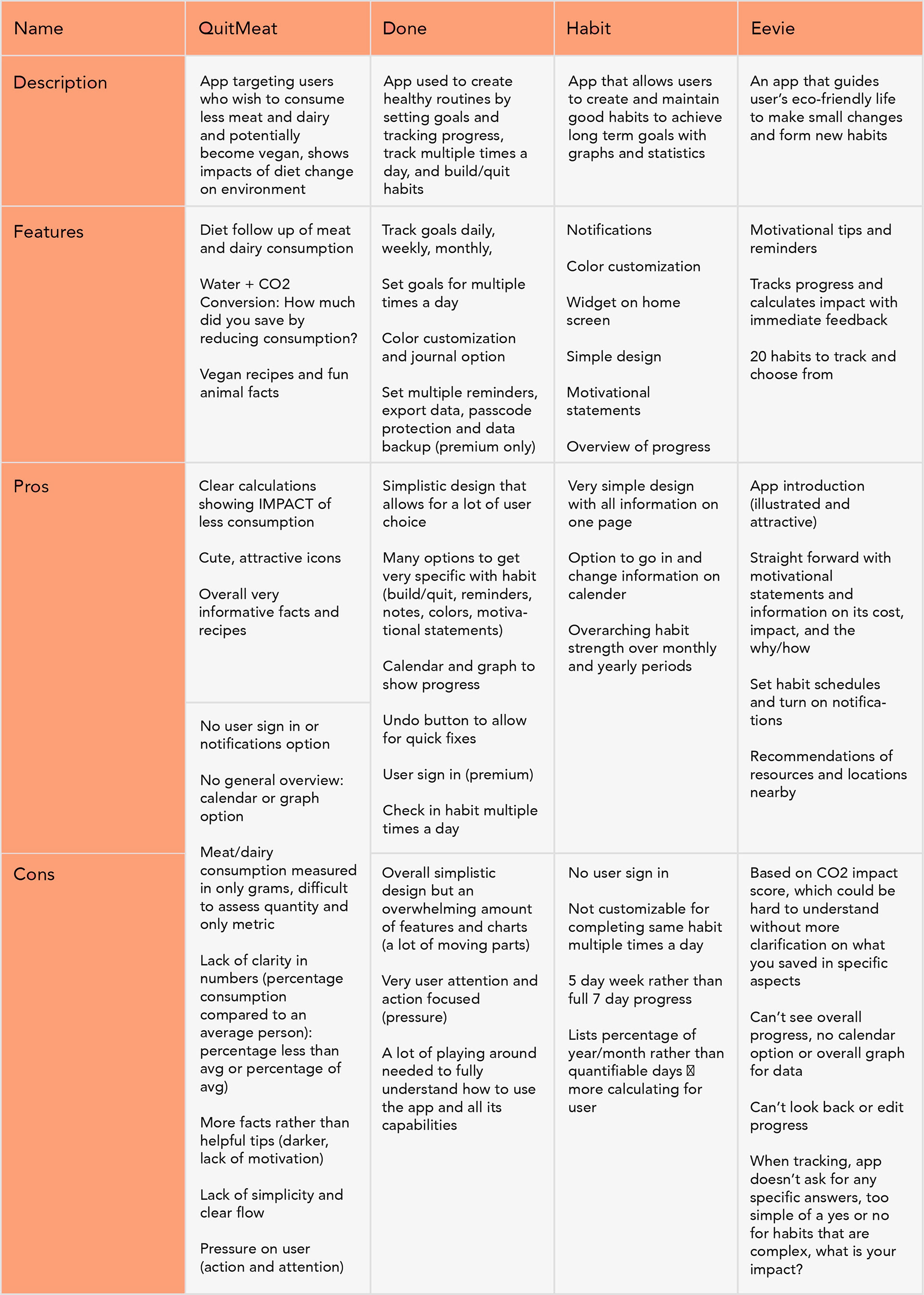 Based on statements from our survey, we conducted an affinity map session. We worked to better define our user group and brainstorm potential solutions to our findings.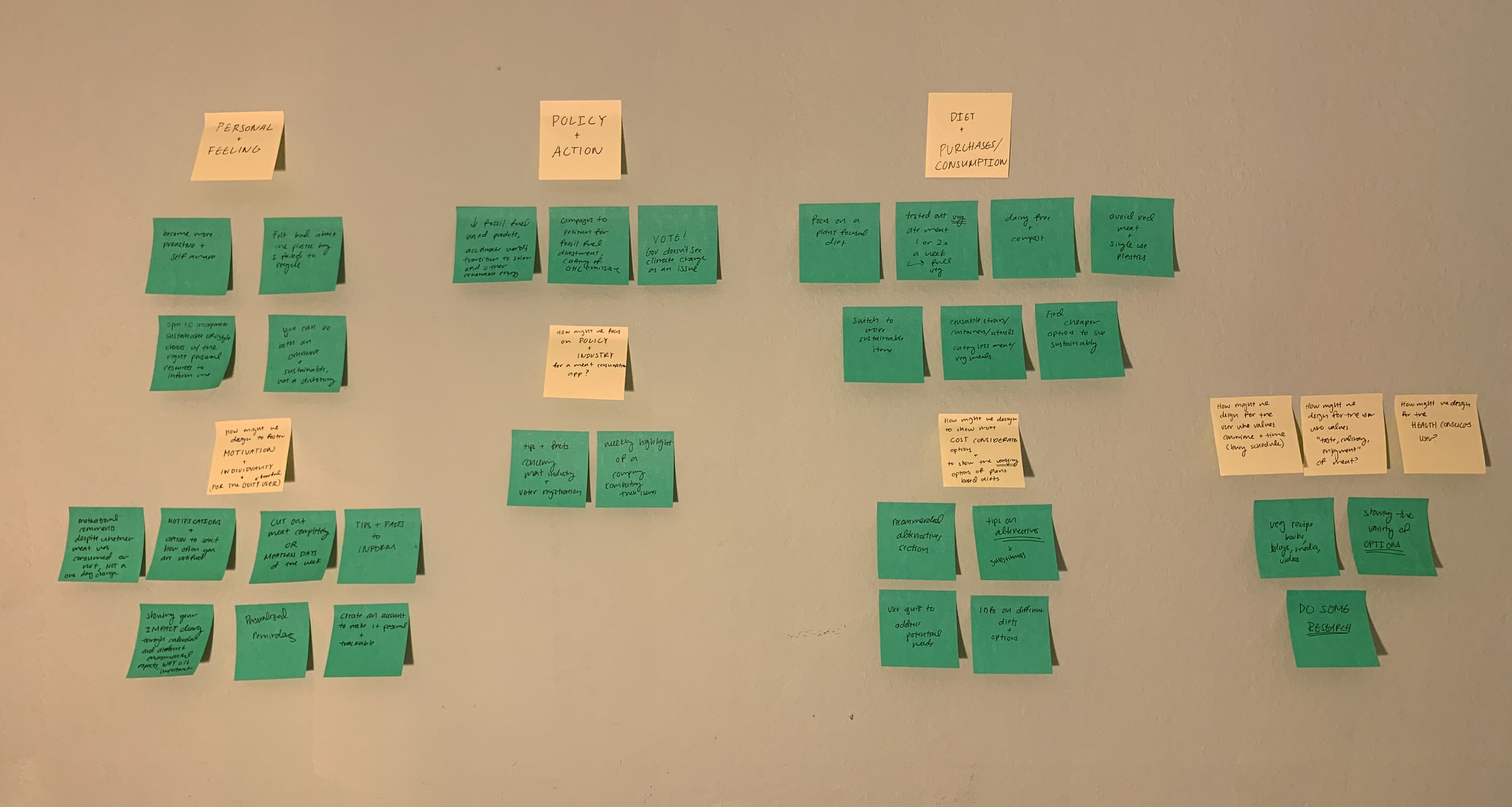 Empathy Map and Storyboard
To further understand our users and design guided with the right intention, we created an empathy map. 
Based on statements from our survey, we conducted an affinity map session. We worked to better define our user group and brainstorm potential solutions to our findings.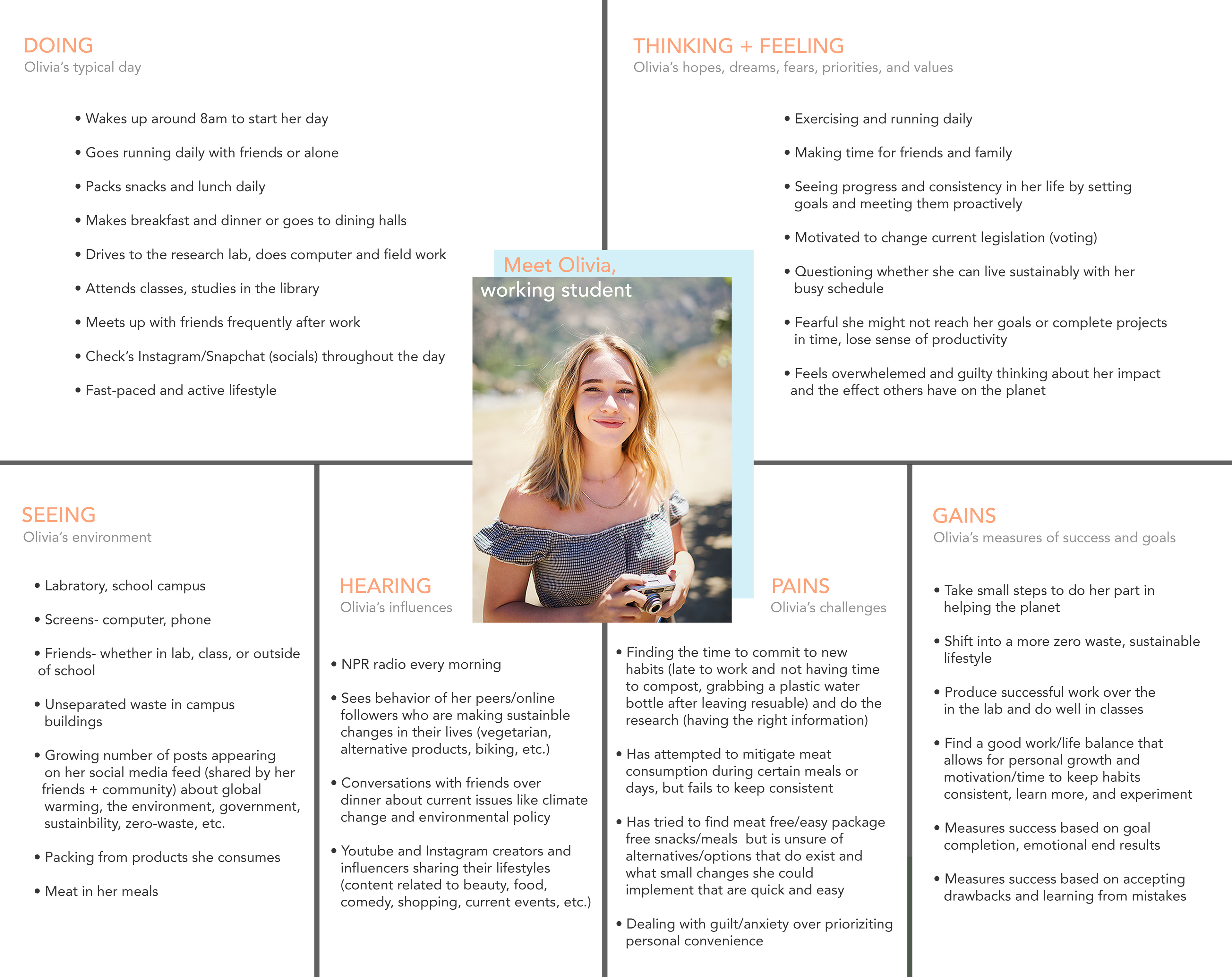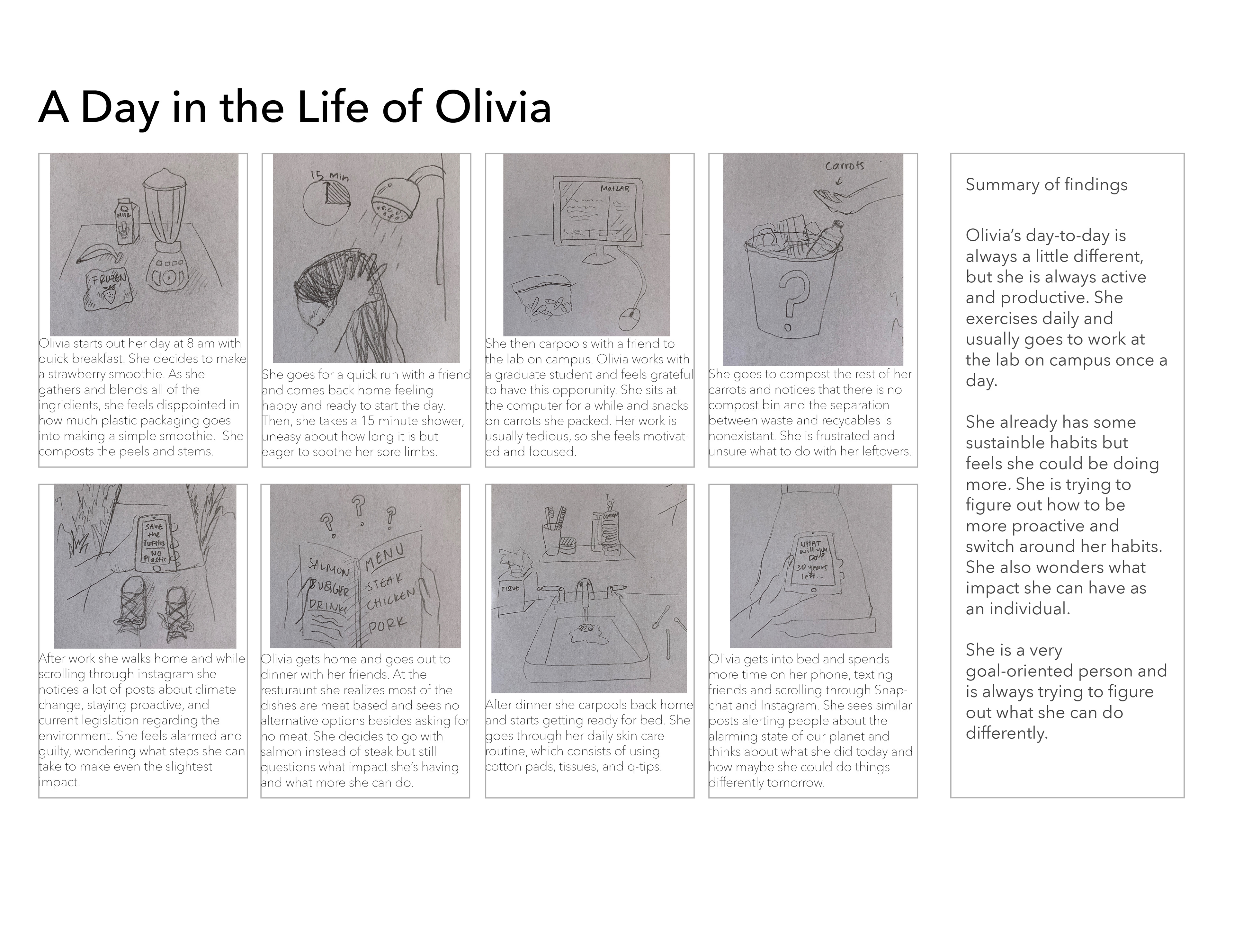 How might we design for...
1. The user who values convenience and time (busy schedule)
2. The user who values "taste, culinary, enjoyment"
3. The health conscious user 
1. To show more cost considerate and varying options of plant-based diets 
2. To foster motivation and individuality, for the guilty/fearful user
3. With an aspect of policy and industry?
With our research, we conducted a brainstorming session to propose potential solutions and steps to reach our design goals.  

We had four different home page iterations. Our first idea was to have two set methods of going gradually vegetarian or cutting out meat on specific days. But, with a focus on personalization, we decided to give choice to the user to design their own plan. Our goal was to emphasize how the process is cyclical. Whether it featured tallies or growing rings of colors, a form of visualization and quantification was necessary to keep up user motivation.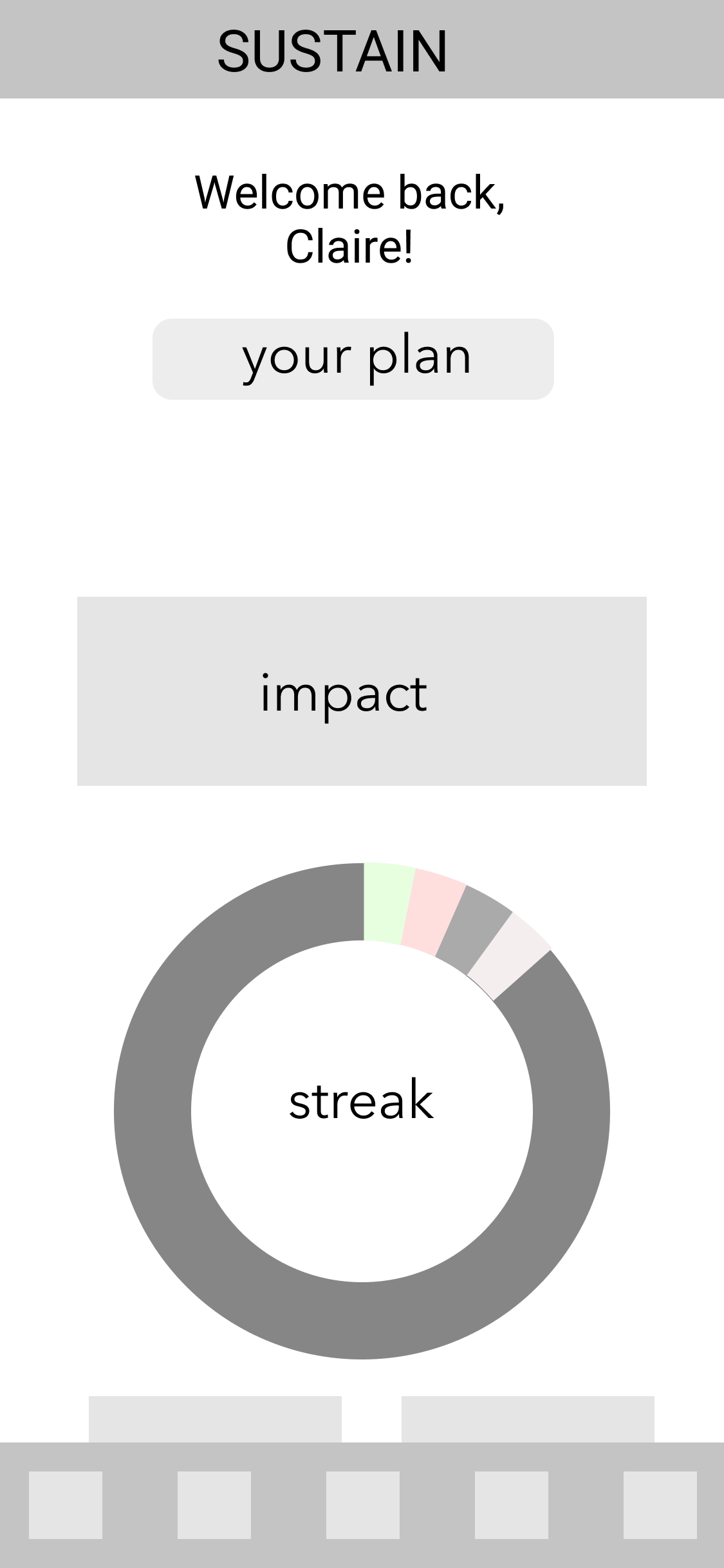 Our final home page has ticks that will be color coded based on daily consumption. The circle equates to one month. Impact over the period of that month will be displayed above the circle and can be clicked for direct look into the impact page. 
For on-boarding, we focused on giving user choice and creating a process of building a plan. With the options of cutting out poultry, seafood, and red meat on their time frame of choice (3 times a week, weekdays, specific days of the week, etc.), the user has full control of their meat consumption process. We also included suggested plans to give a guide to those who may be unsure of what kind of plan to start with.